My name is Greg Norman Burton, and I reside with my domestic partner Rose Marie White at 30 Day Street in the Precita Watershed of San Francisco. I am retired, survive on my Social Security, and receive MediCal and CalFresh through San Francisco. I am currently surviving cancer, and have suffered for a lifetime with anxiety and depression, as well as undiagnosed PTSD.
Three weeks ago, at this time, I was in prostate cancer surgery. My  surgery was performed by one of the most eminent surgeons and medical educators in the country, Dr. Peter Carroll. Dr Carroll doesn't do many surgeries personally these days, but the urology residents at SFGH, particularly Dr. Lindsey Hampson and Dr David Bayne, pushed for it. I want to emphasize that money could not have bought this particular surgery. The ONLY way I could have received this surgery, as an average American, is through the Affordable Care Act.
In short, I am receiving world class medical care, and been given my life back, by the people of San Francisco. I should be here praising UCSF, SFGH, the clinic network, and the literally dozens of wonderful people I have met in the last two months of dealing with this disease.
It is fitting that such an event should take place in Representative Pelosi's district, since it is her leadership as much as anything that allowed it to happen at all. Instead, we have what Rosa is about to tell you marring the event, and jeopardizing the success of what was to all indications a wildly successful surgery.
---
I am Rose Marie White and I live at 30 Day Street in San Francisco. I suffer from physically and mentally disabling conditions. I have been a client of the San Francisco Human Services Agency since 2011. In 2012, I made two unsuccessful attempts to work; the failure of my second attempt kicked off a nervous breakdown that lasted for most of two years. About a year ago, my PTSD was retriggered, and I suffered months of suicidal ideation. During most of that time, I refused to apply for Social Security Disability, because I was sure that I would be able to bootstrap appropriate employment for myself "very soon". For part of that time, I refused to apply for food stamps.
My partner and I currently receive CalFresh and Medi-Cal. Other than the kindness of friends, our only income has been his $813 per month retirement payment.
This July, faced with our negative bank balance and poor prospects, I filed for CALM in person, requesting an assessment.I have yet to be contacted by CALM. I was given an appointment to apply for General Assistance on August 25th.
On the morning of the 26th, I arrived at 7:45am, determined to see someone who could help me in some way to apply for the assistance that the city had assured me I qualified for. A welter of conflicting information left me distraught and confused, and I sat crying in the waiting area of the HSA. Someone kind figured out that I could use assistance from an ADA worker.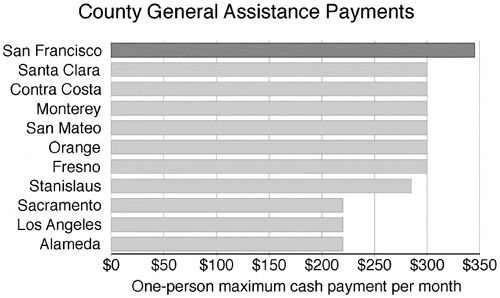 A worker would come to my home to take my application for General Assistance. The first available appointment was for September 11th, the day after Greg had surgery to remove his prostate. This was extraordinarily stressful for me, due both to the current circumstances and because I was in NYC on 9/11/2001, and so I asked if there was any way the appointment could be before September 10th, but it could not. So I met alone with her at my home on the 11th, we went over a pile of forms together, and we discussed Greg's Social Security Retirement check.
This appointment had taken a long time to get, and we were so grateful. Greg had been operated on the day before, and it was awful to have to have a meeting with a social worker instead of being at the hospital with him, but I did this, and was qualified. We received the sole payment on the 16th. On that same day a Notice of Action is entered saying that because we receive income from SSI, our food stamps are going to be stopped. On this day I was vomiting bile and was sent to Urgent Care.
On Sept 23 I arrived at HSA at 10AM in order to complete the paperwork. I got fingerprinted (which I had done before, but which I had to redo), gave her the documents she requested, minus one, and asked for a couple of days to get the last letter to her. At this point I had been given emergency anti-anxiety medication by my psychiatrist because my anxiety and PTSD symptoms prevent me from sleeping and otherwise functioning, and give me migraines.
The worker was very annoyed with me and repeatedly threatened to cut off the benefits, saying that if I couldn't get the documents to her on time it was "not [her] fault". She knew that I had needed ADA assistance, and why, since she was the one who had come *to my home*.
My partner was discharged from his two-day readmittance to SFGH on Sept 25 , and we went home and slept. On the 26th, I called to ask for help from the ADA desk, where I thought I had been helped when I had appeared on August 26th. I was put through to a young woman who explained some things to me that became confused in my mind very quickly, because I became so upset and started crying. She told me that the GA benefits should never have been approved, and would be cut off no matter what I did, so it didn't matter about the letter. I became slightly hysterical, and my partner, one day home from hospital, took over the phone.
---
Greg – 
Let's cut to the chase – at the close of business last Friday, the very last part of his day, when the situation became clear to me, I asked the GA supervisor how we were going to fix this, which developed because of his unit's error. His advice was to NOT file for a hearing. To supplement the lack of our legitimate benefits he suggested, and none too obliquely, that we commit IHSS fraud and keep quiet. Aren't you glad the ACTUAL fraud here wasn't committed by a recipient?I spent all day yesterday and Monday trying to request a hearing so that our benefits would not be cut today. I was unable to find ANY means of communicating the seriousness of our situation before this meeting today. And I am supposed to be resting, under doctor's orders, and avoiding stress.
As the Dude said, this will not stand. After this meeting, we will find counsel and determine appropriate legal, state, and administrative charges. Our statements this morning are being emailed to Representative Pelosi's office, and to Mayor Lee's Office of Disability. I look forward to discussing with them ways to resolve this situation for the benefit not only of us, but for the working class and poor people of San Francisco who desperately need not only the services, but the hope those services provide.
We did not ask for this. All we wanted was to heal, and think about the Warriors moving to San Francisco. Before we rest, before we sleep, Rosa and I chant together the Warriors' huddle chant from the past -"We're all we've got. We're all we need." And that is the truth.
Now, if you will excuse us, we need to rest. I need to get cleaned up for my doctor appointment today, and then speak to some people about catheters and whether or not I will need chemical cauterization of my weeping flesh. Thank you."